Why Would You Want to Outsource Automation Programmer?
Nowadays, outsource automation programmer is an obvious choice for a company that does not specialize in custom automation development or just does not have enough time and human resources to deal will with it in-house.
By developing Outsourcing, enterprise has more time to concentrate on other important things in process. Another advantage is that you do not have to learn a programming language. Moreover, Outsourcing could help save cost and timing.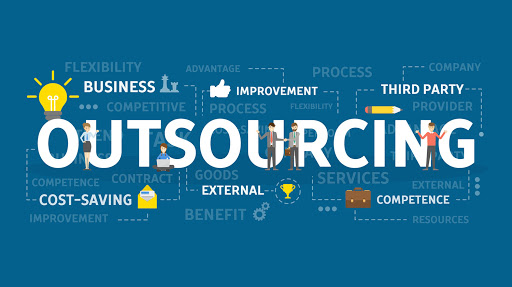 Pros and Cons of Outsource Automation Programmer
Here we are sharing the Pros and Cons of automation programming outsourcing with third-party partner.
Freelance Developers
Pros
Easier to hire. Shorter lead times mean that you can get your product to the market faster.
Lower costs. You can hire any programmer you like from any corner of the world, paying in dollars or euro, which gives you an opportunity to take advantage of differences in prices.
Great for smaller projects. Freelancers are an ideal choice for delegating small tasks and minor projects, increasing speed to market and sparing you from spending much time on secondary tasks.
Cons
The risk of exposing intellectual property. Outsourcing the development of a digital product poses a threat to your company's intellectual property.
If the freelancer is based in a different country with a different time zone, it can be hard to find time to meet and discuss the project that will be convenient for both of you. Another problem is cultural differences and poor knowledge of the language you speak, which again may cause delays and misunderstandings.
Different coding and design standards. It is important that the developers understood the digital trends that exist on the market of your country. It is much easier to do when you work and reside in the country for which you develop the product.
More control from your side. You often have to check with the developers from emerging markets, track their progress and discuss your requirements time after time. This all can result in miscommunication. Especially if you do not have a clear vision of the end project and have not supplied the developer with a software requirement specification.
Unreliable developers. You never know whether the information the developers provide about themselves is true, so you can never be sure in the outcome of the venture.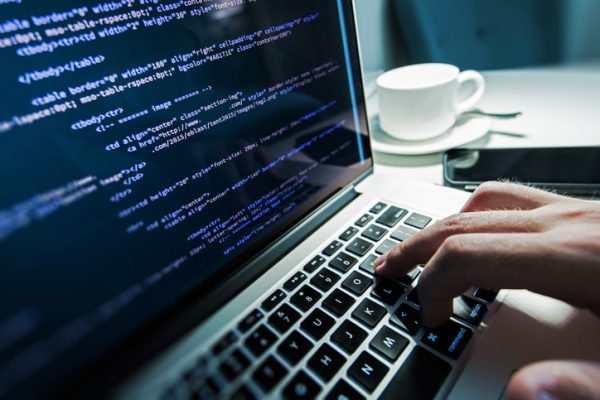 Outsourcing to Automation Development Companies
Pros
Outsourcing third party
Higher qualified workforce – lower cost – ease your workload
Focus on the maintenance
Certified experts.
Secure automation OEM and trading partner connectivity
Cons
Experienced development team charge more per hour, especially those located in the US or Europe. However, given the high quality of their products, your newly designed program will pay for itself soon enough.
Other clients. You should understand from the very beginning, that you cannot be the development service company's only client – they have other projects to work on, so they will not be able to pay you 100% of their attention.
Outsource Automation Programming Service at CTI SUPPLY
CTI SUPPLY is an outsourcing-neutral unit/programming integrator providing complete process control and automation across all the major PLC, SCADA/HMI systems and industrial process network platforms. We are capable of specifying, procuring, designing, programming and implementing automotive complete systems, which are our fortes.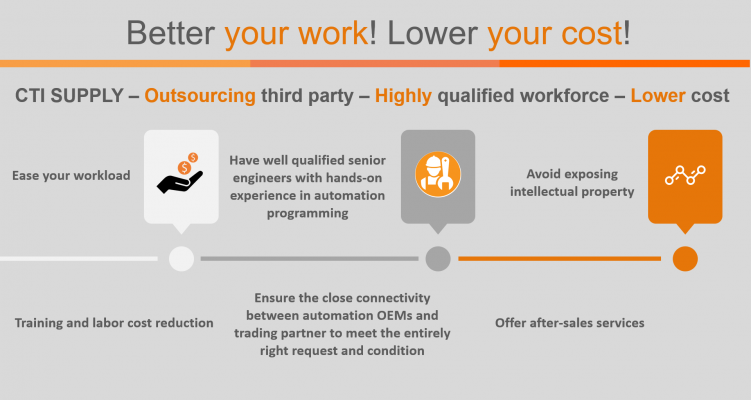 Our outsourcing programmers create the effective budget management, diminishing cost of recruitment, staff as well as effectively solving the problems resulting from prohibitive labor cost. Highly qualified specialists with wide range of competences offer outsourcing services within the field of designing control units, PLC designing & programming, implementing & parameterizing the technological processes. If you are interested in services, please reach out to us via phone  (+84) 91 190 1717 or email  info@ctisupply.vn.
Contact us for more info!