Against the backdrop of the water supply management, the pressure for municipalities and plants to efficiently treat water is greater than ever. It's more necessary for water treatment and supply plant to regularly analyze the plant's water treatment performance and ensure systems are operating with the most efficient equipment and technology.
When water treatment plants or supply sources are not operating efficiently, it can be extremely costly. The combination of inefficiently older pumping and process equipment, combined with outdated water management practices can result in higher operating costs and lower revenue collected, which can negatively impact a treatment plant's bottom line.
That the project of control system upgrade CTI SUPPLY cooperated with one of US-based contractor outlined below can help water treatment plants to better water management and potential cost savings by reducing water waste.
Overall Existing Water Control System of Food Processing Plant
The Food Manufacturer installed the control system to control and monitor its water supply and treatment system remotely. As the expansion, the existing control system failed to reach the sufficient performance and diagnostic capabilities. The outdated HMI system also made it difficult for the plant to meet widely complex management, increasingly stringent environmental regulations and violations could have resulted in hefty fines.
The current system pumps up water from wells and add chlorine into it in the plant. Logically, water is pumped from 3 Wells into Water Tanks. Apparently, Chlorine is added to the Portable Water Tank, and they then pumped by 4 Booster Pumps into Surge Tank to be ready for distribution. With the aim to sustainable supply and back-up source, the upgrade project enhanced with total 4-pump operation under completely new HMI software.
Contracted Scope of Work
Provided processed water supply for food processing plant, main scopes to implement the system improvement divided into several sections and taken over by certified vendors as below:
New Pumps Designed and Installed by the local Contractor
New Control Panel and PLC/SCADA System Programed and Tested by CTI SUPPLY in outsourcing cooperation with the local System Integrator Company
Under programming assignments to CTI SUPPLY, the engineers and programmers performed 2 key tasks coming to entire HMI software coding change and PLC upgrade by 2 pumps add-ons. The system equipped with 110 Input/Outputs, 7 Pumps, 3 Flowmeters, Chlorine Analyzer, PID control, plus PLC & HMI.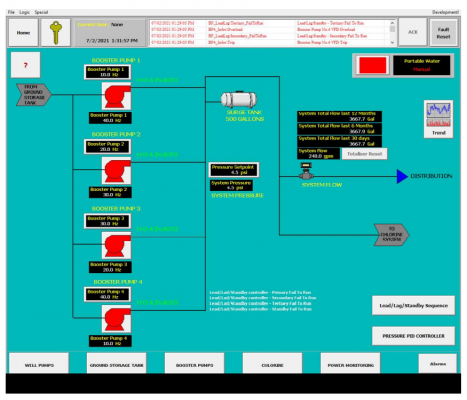 Required Software Platforms
To upgrade the Control System, the team chose to apply Wonderware for HMI and ControlLogix from Rockwell Automation for PLC.
Systematically, the new system is to change from 2 single well pumps to 3 duty-standby sequence-controlled pumps and from 3 Booster pumps into 4 pumps with Lead-lag-standby sequence control.
Highlight
Armed with an understanding of the effectiveness of current water practices, the certainty is to evaluate the capability of pumps used for producing water.
In particular, many of the process technologies used for water involve pumps. Traditional practice, especially in plants which are ten years and older, is to design pumps based on the peak plant flow, when in reality these pumps operate at a variable flow, based on seasonality and system demand. For this reason, many pumps are oversized or lessen with capacity shortage.
The systematical upgrade must maintain output pressure of the system as well as monitors Well Pumps' flow in the entire system. Especially the original Lead/Lag/Standby sequence control was uncomprehensive for operators to use. Thus, the engineers redesigned the layout showing the control logic more visually effected explanation.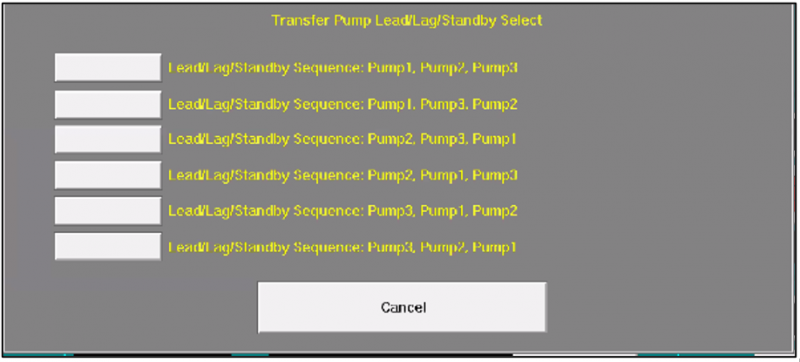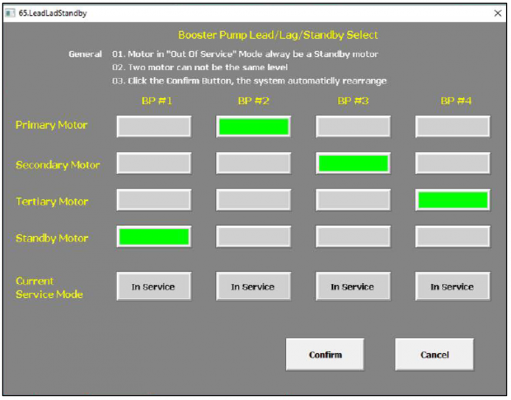 Acquainted with our customers' requirements on various projects for municipal water district or manufacturing plants, CTI SUPPLY's aware that each project set out its own standards and norms that must be followed. To ensure the technical specification understanding in scope, regular meetings with the client set up regularly to clarify and gain informative change if any amendment. On this, the team was able to get familiar with the norms and standard so that the project completed efficiently and complied with the end user's expectation.
LEAD/LAG/STANDBY SEQUENCE: programming sequence that designates multiple pumps to act as lead, lag, and standby units. When pumping demand increases and the lead pump is already at high capacity, the operator turns on the lag pump(s). When they are at high capacity, the operator adds pumps to meet the demand. When it slows and the pumps are operating at minimum speeds, the operator turns them off accordingly in reverse order.
For this project, the sequence is applied for four motors, which makes the logic a little more complicated to be programmed. By adding the Secondary and Tertiary motors as Lag designated motors, this system is both efficient and able to handle high load.
DUTY/STANDBY SEQUENCE (OR SOMETIMES DUTY/STANDBY): multiple pumps act as duty, assist and standby units. The duty pump is the main working pump in the system, doing the most work to provide pump/flow requirement. The Standby pump would only work when the duty pump is put out of service.
Increase of from two-pump into three-pump system facilitates the plant to handle maintenance work more conveniently and perform more reliabilities.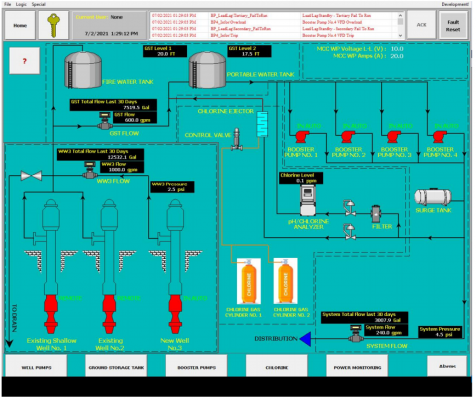 Constant speed pumps that operate in an on-and-off mode use more water than required, which leads to water and energy waste. For this reason, plants should retrofit their constant speed pumps with variable frequency drives (VFDs) to reduce water waste and energy consumption and avoid pump wear and tear from repeated on-off cycling. In reality, VFDs can reduce a pump's energy use by as much as 50%, which also means reducing water consumption.
Essential efficiency parameters include monitoring for leaks in the distribution network, backwash water rates tied to filter quality output, sludge thickening rates and smart pump operation using VFDs. Water treatment plant operators should consistently evaluate their water management practices to ensure that the plant is operating efficiently, thus minimizing energy costs and improving water conservation efforts.
In addition, the HMI is used to create a history for each remote site to verify variations in flows and pump failures and correlate this data against pump starts, pump run-time hours and pump motor high-amperage alarms. Data analysis enables operators to set pump monitoring parameters accordingly to prevent failures.
Monitoring discrete parameters also aids field personnel. Monitoring pump on/off status along with pump hand-off-auto status can prevent potential problems if operators working at the site accidentally leaves the pump in manual.
The last procedure is to access and analyze the data to evaluate infrastructure performance and identify what adjustments are needed to further improve efficiencies. Because many water treatment facilities were installed without much thought about data acquisition, it's important for treatment plant managers to ensure they are measuring and monitoring the right efficiency parameters.
Key points
Concerning about problems with outdated Water Control System the team assigned to code and re-program an A-to-Z new platform change hereof due to 100% of HMI phased out system.
When it comes to water management practices, The strict condition is to follow all programming norms which are not specified standards requested by the customer.
The tough timeline urges the team to quote for the project in a week, programming within 2 months and complete remote Factory Acceptance Test and Site Acceptance Test. All members got testing done remotely together with local engineers of client party.
Value
Original system was no longer performed autotune for PID controller, the redesigned program now allows the system to perform autotune on the HMI, improving user friendliness for the user.
Our engineers, internal project management and our operational staff all knew that we needed a new HMI system that was easy to use, scalable, reliable and more cost-effective than the existing one. We towards a system that plant operators could configure and monitor over a network. Finally, the system had to be supportable with our own internal resources so we wouldn't have to rely on outside contractors.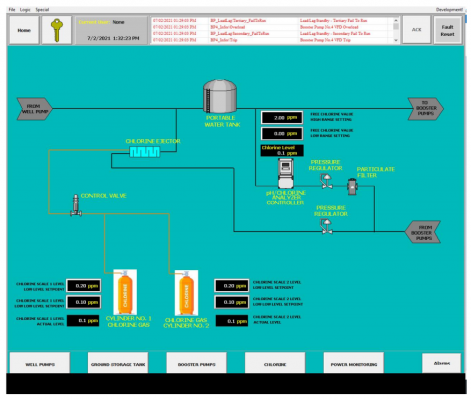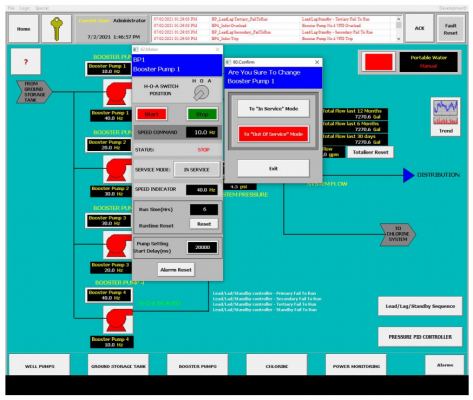 The new system needed to accommodate additional pumping amount to meet supply growth. Reliable monitoring capabilities were critical to maintain regulatory compliance, and we needed to keep operational and support costs low to stay within a tight factory budget.
A key feature needed for the new system was the ability to help operators avoid delays in water shortage. They also needed a responsive and dependable control system vendor that could support and troubleshoot system problems efficiently.
CTI SUPPLY – Automation System Integrator
As an automation integrator, CTI SUPPLY engineers have been certified to design, program and install PLC, SCADA, HMI automation systems. Our team comprises of well-qualified senior engineers with vast experience in Siemens, Rockwell Automation, Schneider Electric, Honeywell  and Yokogawa to name a few. Our team has extensive hands-on experience in high-tech machine, electrical and automation system programming for multinational corporations, high-tech automated manufacturing plants, water and wastewater treatment plants and the oil and gas industry, Furthermore, CTI SUPPLY team has experience with Factory Acceptance Test and Site Acceptance Test.
ALLEN BRADLEY/ROCKWELL AUTOMATION
SIEMENS
MITSUBISHI
SCHNEIDER ELECTRIC
BECKHOFF
OMRON
Are you looking for a system integrator with lower expense on programming cost and better service? Contact us.