PLC, SCADA and DCS systems
Originally PLC, SCADA and DCS systems were supplied by separate manufacturers. Today the top 3 PLC companies Siemens, Rockwell and Schneider are in the top 5 of SCADA suppliers and are also in the top 7 of DCS manufacturers! Using different products but often with common I/O, controllers and sharing software kernels in some cases. In addition to this convergence the other main DCS vendors Honeywell, ABB and Emerson have released their own PLC equivalent products to address the small end of the automation market. Also all the DCS vendors have released ever smaller and smaller DCS systems as "box" or "lab" or "entry level" versions to compete in the PLC market.
Convergence
Another major differentiating factor is that PLC-SCADA is generally implemented by SIs whereas DCS is delivered by the manufacturer themselves. Siemens, Rockwell and Schneider already have well established SI partner company networks with Siemens even having certified DCS partners. The other newcomers to the PLC market are frantically recruiting partners to cover specific geographical areas or process applications. Of course, if PLC and SCADA components are sold via distributors any SI or panel builder can buy and program the systems without being accredited as competent by the original manufacturer.
Along with everything in technology, PLCs have become more powerful, with greater capabilities and easier to program/configure, however the other 2 main PLC suppliers Mitsubishi and Omron have made no particular move towards the DCS market. There still remains room for independent SCADA products when a user wants to standardize on a HMI package across a number of different makes of PLC, however there are not many pure SCADA companies left as stand alone anymore.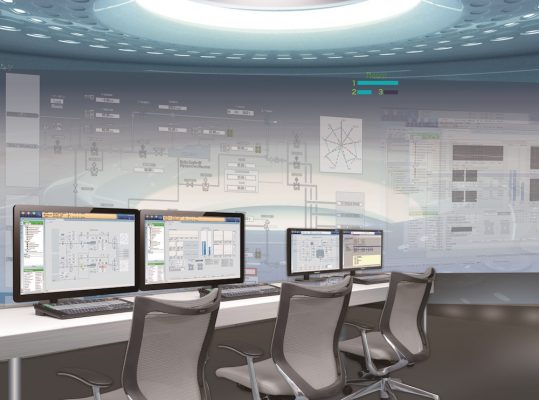 The next 7 questions are not definitive but aim to assist when trying to decide between PLC-SCADA and DCS.
Point No.
1 – What is being manufactured and how can it be?
Manufacturing or assembly of specific items
Can see the product moving through the process
High speed logic control (such as motors)
Simple Batch control
Often referred to as Factory Automation
All point to PLC-SCADA whereas:
Involves the combination and/or transformation of raw materials
Cannot see the product moving through the process
Regulatory/Analog (loop) control
Fluid dynamics
Complex Batch Control
Often referred to as Process Automation
Leans towards DCS.
Point No.2 – What is the value of the product being manufactured and the cost of downtime?
Value of each individual component being manufactured is relatively low
Downtime mainly results in lost production
Downtime does not typically damage the process equipment or is unsafe to personnel
All point to PLC-SCADA whereas:
Value of continuous product or batch can be very high
Downtime not only results in lost production, it can result in dangerous conditions
Downtime can result in process equipment damage (product hardens, etc.)
Leans towards DCS.
Point No.3 – What is viewed as the heart of the system?
Typically if this is the controller this would point to PLC-SCADA, in fact in some cases the PLC can operate blind without an HMI. However, if the heart is viewed as the HMI this would mean DCS. It should be noted that DCS always comes as an integrated controller(s) HMI(s) system, whereas for a PLC the HMI must be bought in addition as a SCADA package, often, but not always, from the same PLC supplier.
Point No.4 – What does the operator need to be successful?
The operator's primary role is to handle exceptions
Status information (on/off, run/stop) is critical information for the operator
Exception based alarming is key information for the operator
Manufacturing could run without the operator and the HMI
All point to PLC-SCADA whereas:
The operator's interaction is typically required to keep the process in its target performance range
Face-plates and analog trends are critical to "see" what is happening to the process
Alarm management is key to safe operation of the process and for responding effectively during plant upset conditions – typically meeting EEMUA 191
Failure of the HMI could force the shutdown of the process
Leans towards DCS.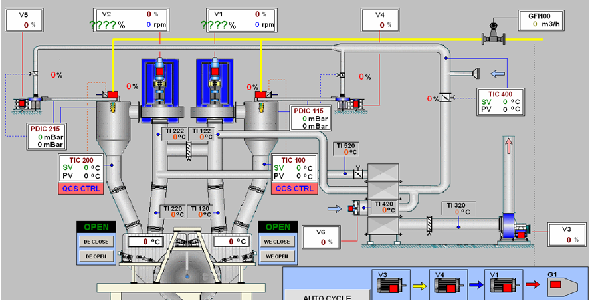 Point No.5 – What system performance is required?
Fast logic scan (approx. 10ms) is required to perform motor or motion control
Bumpless redundancy is not normally cost justified
System can be taken offline to make configuration changes
Analog control is simple PID only
Diagnostics to tell you when something is broken
All point to PLC-SCADA whereas:
Control loops require a deterministic scan execution at a speed of 100 to 500ms
Bumpless system redundancy is often required at many levels
Online configuration changes are often required
Analog Control is simple to advanced PID control up to advanced process control and self tuning
Asset management alerts user to what might break before it does – predictive maintenance
Leans towards DCS.
Point No.6 – What are the engineering expectations?
1.    Solution is generic in nature, to be applied on a wide variety of applications
2.    System designed to be flexible
3.    Use Ladder Logic to configure application
4.    Database/Configuration separate for PLC and HMI and communications between the two must be configured
5.    Customized routines usually required.
All point to PLC-SCADA whereas:
1.    Many algorithms (i.e. PID) are very complex and don't vary application to application
2.    Standard application libraries are expected (function blocks, face-plates, symbols) – significant out of the box functionality – use of pre-defined, pre-tested functions saves time
3.    The entire system (controller and HMI) is expected to function as a complete entity
4.    Able to undertake upfront design/configuration of complete system before implementation begins
Leans towards DCS.
Point No.7 – what are the integration requirements?
Application is homogeneous i.e. all control or all safety (unless for machine safety)
2.    Signals are safe area, simple instruments or mostly digital
3.    A small number of third-party PLCs or other systems link to the main PLC
Points to PLC-SCADA whereas:
1.    Application is mixed control and safety on a common platform
2.    Signals are hazardous area and smart instruments – remote central diagnostics/configuration is required
3.    Integration of a large number of soft I/O from other PLCs and third party systems is required
Leans towards DCS.
Conclusions
Traditionally PLC-SCADA systems had been used for smaller mainly digital applications that have been implemented by SIs. However PLCs have become more powerful able to handle larger applications and capable to undertake more complex analog applications.
Similarly DCS had been used for larger mainly analog applications that have been implemented by the DCS manufacturer themselves. However DCS companies have released "entry level" DCS systems and PLC equivalents that are able to handle smaller applications and many suppliers are recruiting a network of SI partners to deliver the systems.
Classically PLC-SCADA hardware and license components have been cheaper than DCS and the SI engineering rates would be lower. However DCS suppliers would argue that this is offset by less engineering hours because of the use of an integrated controller/HMI database, libraries, symbols, face-plates and other pre-configured, pre-tested elements. This cannot be totally true because of the trend to use low cost overseas engineering offices in E. Europe or Asia. However, it is generally accepted that DCS configuration is more structured, transparent and easier to understand by future engineers revisiting the application, than PLC-SCADA programming can be.
The automation market has seen a great deal of consolidation and convergence with many smaller SCADA, PLC and DCS companies being acquired. It could be argued that the sector is dominated by 2 companies Siemens and Schneider who have been well established in all technologies for many years and have long standing, experienced SI partner networks. Rockwell are also major in PLC-SCADA but relatively new to DCS. Honeywell, Emerson, ABB and Yokogawa are big in DCS but still developing small automation offerings and partner networks.
The lines between PLC-SCADA and DCS are even more blurred when the PLC and SCADA are sourced from the same manufacturer. In this case nowadays the HMI and PLC can be configured as an integrated system before the hardware delivery, using Libraries, Ladder, FBD/STL and higher level languages like JavaScript and Graph etc. Indeed with a cost effective Simulation package the integrated system can be tested and commissioned virtually. Of course a glowing example of this integrated approach is the Siemens TIA Portal! Most of these benefits are lost when buying PLCs from one manufacturer and SCADA from another.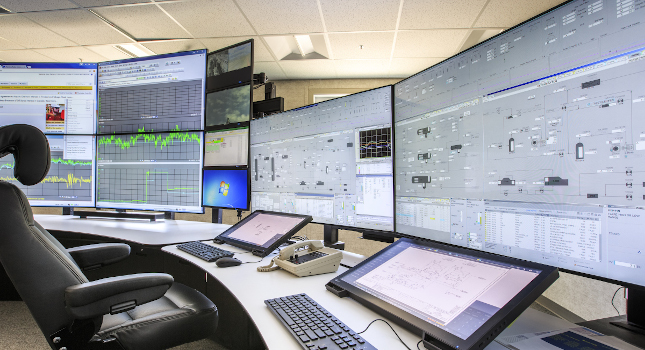 About Author
Steve Jackson MA CEng EurIng
" I have to declare right from the start that I am a DCS guy through and through over many years. From quoting Provox at Fisher Controls to selling Net 90, Infi 90 and Symphony at Elsag Bailey that morphed into ABB and latterly to developing PCS 7 business at Siemens. I have always worked for the main DCS manufacturer. My DCS credentials can be further supported by recent LinkedIn Articles referenced at the end of this document. My view of PLCs over the years has been very much what is shown in the stereotypical table below. Mainly that PLCs were for package plant to be connected to the DCS and used for smaller digital applications, implemented by a Systems Integrator (SI), programmed in ladder logic, mostly blind but if you wanted a HMI you got a SCADA package and if you wanted the least trouble with this integration you bought the SCADA from the same company you bought the PLC. However times have changed…..," said Steve.
CTI SUPPLY – THE RIGHT INDUSTRIAL AUTOMATION SYSTEM INTEGRATOR
CTI SUPPLY built up a group of well-qualified senior engineering teams with a great number of in-house experts and automation control system programmers in Vietnam. We are available to take on different projects in scale, even on short notice, and quickly ramp up by working as an extension of your internal team. Our vast experience allows us to offer custom and application specific training as an added benefit to our clients.
With over years of experience in high-tech machine programming, CTI SUPPLY's design team are able to simplify PLC/SCADA/DCS prototype process as our main package of your choice. We can also supply you with drawings and documentation for all your equipment builds.
Engineered Solutions | Custom Control Systems | Programming Services
During the current economic uncertainty, CTI SUPPLY is still open for business to offer our full offsite service globally.
Hotline: (+84) 91 190 1717, Email: info@ctisupply.vn