In the recent years, Vietnam has become an emerging market for software development outsourcing in the global tech community. Competitive automation outsourcing cost combined with highly skilled workforce and top tech talents make Vietnam an attractive choice for companies that are looking to outsource their software and mobile application development projects.
In addition, many tech companies from other developed countries such as Japan or Australia have already set up offices and hiring software automation outsourcing developers to work on their projects in Vietnam in the past few years. The trend is becoming more and more popular.
In this article, we focus on the current state of the Vietnam industry as well as identifying the main benefits of automation outsourcing projects to Vietnam, in order to help you make an informed decision choosing your ideal outsourcing vendor.
THE BENEFITS OF AUTOMATION OUTSOURCING PROJECTS TO VIETNAM
While Vietnam programmers and developers have achieved positive results and are getting recognized for their high-quality work and creative ideas. This particularly makes hiring outsourcing labor in Vietnam extremely beneficial: On-shore tech companies receive high-quality works at a price that is much lower than the average rates in their own countries.
And reasonable rates are not the only noticeable benefit that entices companies to outsource their business to Vietnam. Here are other reasons to outsource to Vietnamese software companies:
     1. Dynamic and well-qualified workforce
In Vietnam, the number of talented programmers has been constantly growing. Automation corporations can benefit from these tendencies by choosing skilled developers from the vast Vietnamese talent hub and cooperate with them through the extended team model.
     

2. Convenient Travel Location
The time difference between Vietnam and other Asian countries is one to a few hours on average, which is practically negligible for efficient daily communication. Moreover, traveling within Asia is very convenient, as you can reach most Asian tech hubs within a couple of hours from Ho Chi Minh City.
There are also direct connecting flights with major European and US cities available throughout the day. Although travel time takes obviously longer, a maximum time difference of below 24 hours still makes it possible to set up efficient cooperation with the help of daily sync-ups and flexible working hours.
       3. Cutting-edge technologies 
Vietnamese workers always keep up to date with the newest technology for instance, Designing, Programming, Machine Learning, etc. and are not afraid of new challenges. Furthermore, Vietnamese developers possess strong technical skills as well as hands on experience working with complicated large scale projects.
4. English Proficiency
English skills among Vietnamese professionals are usually more fluent than the country's average. And many other factors, undeniably makes Vietnam one of the leading automation outsourcing destinations worldwide. This will definitely help increase international workforce collaborations.

How to Choose the Right Software Automation Outsourcing Company in Vietnam?
With the increasing availability of software automation outsourcing companies in Vietnam, choosing the right one could be quite a challenge for your business. Before finalizing on the potential outsourcing vendors in Vietnam, it's important that you have a clear understanding of your software development goals, success metrics, and growth targets. Some of the basic factors that need to be considered:
Engineering & Programming Capability
Labor Cost
Sufficient/Fluent English and communication skills
Domain knowledge and industry experience
Developers' expertise in the required technologies
Quality standards
QA and testing
Pricing model and development methodology
Etc.
All in all, it's also preferable to seek out a company that already has a proven development process in place, together with transparency and offers flexibility in terms of changes for your project.
How to Effectively Manage an Offshore Automation Outsourcing Team in Vietnam?
Even though the software developers in Vietnam are highly skilled at what they do, effectively managing an offshore team could be entirely a different matter. To effectively manage a remote team in Vietnam or any other offshore reason, here are some of the tips that you can follow:
Communication: established frequent communication with the development team in Vietnam to keep track of project progress and provide feedback as well as any changes if necessary. Video conferencing tools such as Skype and/or Zoom can be used to communicate face to face.
On-site visits: conducting on-site visit in Vietnam will allow you to get to know the team better, which makes collaboration and team building more fruitfully.
Use project management tools or other similar collaboration tools for easier tasks and progress tracking.
Feedback: providing feedback helps move the project forward efficiently, at the same time guiding the developers on the right track.
Encourage the team: when hiring offshore Vietnam programmers, you should try to treat them as if they are a part of your in-house team. Also try to encourage and listen to their feedback on the development which could be helpful in improving your product.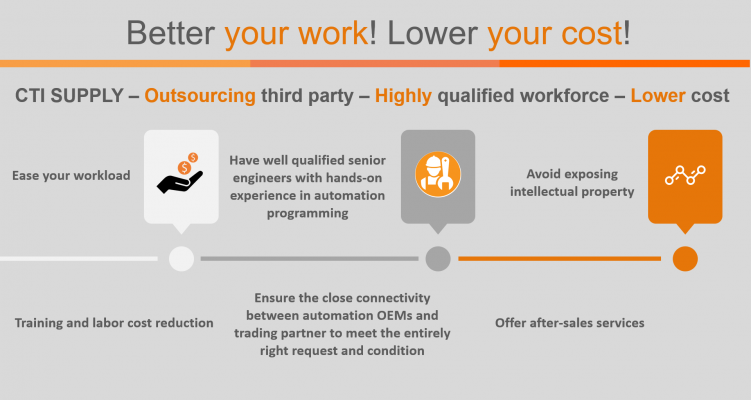 THE RISE OF DEMAND FOR EMERGING TECHNOLOGIES OUTSOURCING PROVIDERS
At the rapid rate of automation, the demand for specialists who are well-versed in advanced and emerging technologies will continue to rise. Even companies who already have their own in-house team of software developers can benefit from outsourcing, especially when it comes to projects which require the beforehand mentioned innovative technologies. All in all, skilled developers are available in developing regions such as Eastern Europe, Asia, and Vietnam in particular.
Why CTI SUPPLY?
When it comes to choosing vendor and hiring candidates, there are many factors a company need to carefully consider before making the final decision, including: the specific business requirements, the technologies, the desired skills of developers, the operation cost etc.
We are a remotely automation outsourcing company called CTI SUPPLY in Vietnam which runs our own business in term of automation designing and programming for industrial systems. In fact, we are seeking customers in a wide range of Europe, the UK, the US, Canada and so on. Our core strength is supposed to offer a better labor cost advantage by senior well-qualified automation programmers and electrical engineers.
CTI SUPPLY built up a group of well-qualified senior engineering teams with a great number of in-house experts and PLC programmers in Vietnam. We are available to take on different projects in scale, even on short notice, and quickly ramp up by working as an extension of your internal team. Our vast experience allows us to offer custom and application specific training as an added benefit to our clients.
With over years of experience in high-tech machine programming, CTI SUPPLY's design team are able to simplify SCADA prototype process as our main package of your choice. We can also supply you with drawings and documentation for all your equipment builds.
Engineered Solutions | Custom Control Systems | Programming Services
During the current economic uncertainty, CTI SUPPLY is still open for business to offer our full offsite service globally.
Hotline: (+84) 91 190 1717, Email: info@ctisupply.vn