NKS Flux Chipper
Best for graving stones, removing paint, rust, welding flux and chipping work Usable with small compressor.

Specifications

NKS Kelen
Removing mad. Rust on construction machines, concrete on concrete panels, Peeling off tiles and P tiles, chipping highway road.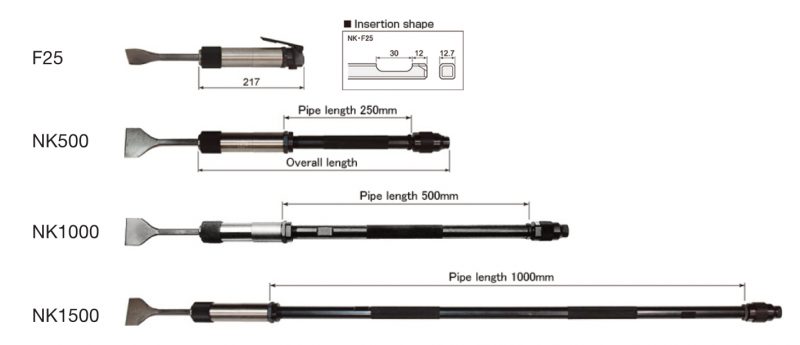 Specifications
Tamping casting sand, fireproof clayware, patching for smelter, tamping soil for civil work.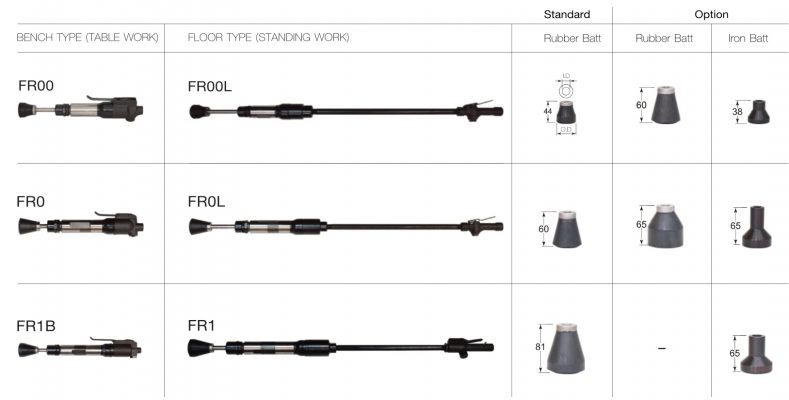 Specifications

Pod Size (tip)

NKS Die Grinders
For removing burr on cast iron. Finishing mold. Grinding metals and stones.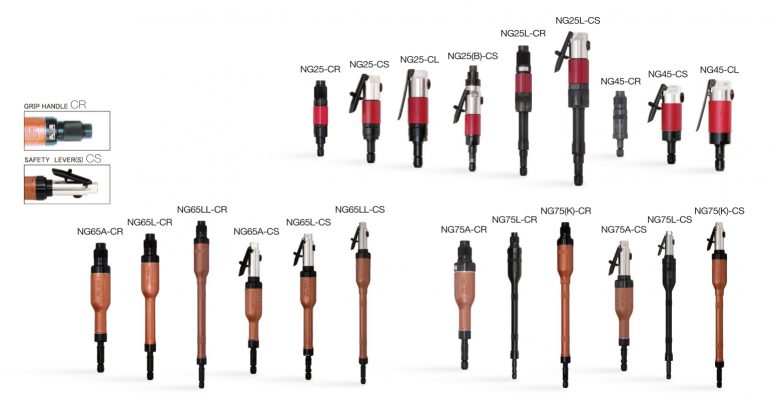 Specifications

NKS Angle Grinders
Wire brash : Removing rust, cement
Grinding Wheel, sand paper : Grinding work, removing castion burr. Flat grinding.
Chamfering, finishing welded surface, diamond cutter : Cutting concrete etc.

Specifications

Công cụ khí nén NSK tập trung vào các sản phẩm:
CONCRETE BREAKER (Máy phá bê tông)
CHIPPING HAMMER (Máy phá bê tông)
FLUX CHIPPER (Máy đục)
SAND RAMMER (Máy đầm cát)
DIE GRINDER (Máy mài khuôn)
DISC GRINDER (Máy mài dĩa)
ANGLE GRINDER (Máy mài góc)
RIVETTING HAMMER (Máy bắt ri vê)
HOLDER ON
SCALING HAMMER (Máy đánh sơn)
KELEN (Máy đục)
NEEDLE SCALER (Máy đánh sơn)
Thông điệp của NKS
"We always manufacture products that are satisfied with the current situation and seek to improve, while at the same time sticking to the fundamentals. Therefore, we continue our efforts to become a pneumatic tools manufacturer that meets the needs of our customers. And contribute to society forever to produce your need for long-term and continuous use for road construction, construction and other structures."
Contact CTI SUPPLY – NKS Official Dealer in Vietnam for assistance in finding and submitting quotes for NKS Pneumatic at good prices from Japan. The CTI SUPPLY team is honored to assist you!
Hotline: 0906.494.486 ; Email: sales@ctisupply.vn