As industries strive to disrupt markets with new innovations, digitalization and network connectivity has proven to be a key driver in enhancing a company's bottom line. The oil and gas industry is no exception.
For years the industry has faced challenges such as falling prices, geopolitical uncertainties, and greater demands for climate action. Today, the move towards a more digitalized and connected model can alleviate some of the challenges the industry faces. In fact, hybrid models are starting to gain recognition for their ability to combine various digital assets to address all organization needs. This includes finding new ways to drive operational efficiencies, reduce costs, and to improve safety.
Network Connectivity
While digital technologies aren't new to the industry, the long term benefits associated with implementing such systems haven't fully been realized by business leaders. This is due to the conservative nature of the oil and gas sector coupled with the dissimilar formats. They are involved with integrating technologies like the Internet of Things (IoT) to existing workflows.
Additionally, since each operator along the supply chain manages unique and complex networks, often in harsh work environments; there is ultimately no single network connectivity solution that can meet all the requirements of oil and gas operators. From wireless connection to WiFi and fiber cables, the connectivity options for the industry are endless. And this is where hybrid network models can be useful, especially since connectivity options differ depending on the three types of operations within the oil and gas value chain: Upstream, midstream, and downstream.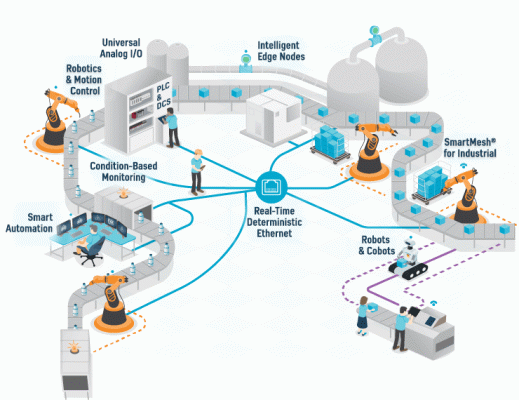 Network Connectivity in Oil and Gas Company
Companies in the oil and gas field are usually divided into these three sectors depending on the company's location in supply chain. Some of these operations can be combined depending on the company's integrated portfolio. Upstream refers to the identification and extraction of raw materials such as crude oil and natural gas; whereas midstream connects the upstream sectors to the downstream ones by carrying the oil and gas to refineries or facilities. These facilities are referred to as downstream companies that engage in the refining of crude petroleum oil (or purifying raw natural gas), post-production, selling, and distribution.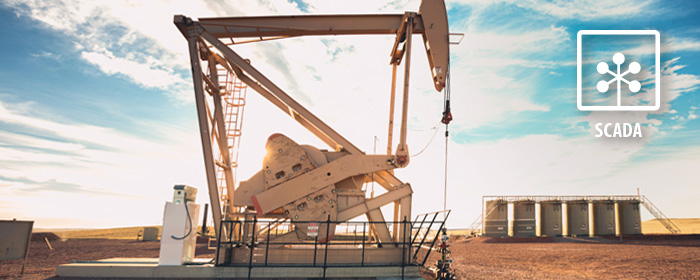 Offering more digitalized solutions within these sectors such as predictive maintenance, real-time data based control system, video analytics and automation system can significantly reduce accidents and unplanned downtime, thereby improving a company's bottom line.  Failure to properly implement such tools could lead to more time spent on manual process inspection and delayed operations.
Given the wide range of digitization requirements from oil and gas operators, a hybrid network model is typically recommended. It allows companies to use more than one type of connecting technology or topology in their supply chain. However, while beneficial in addressing some of the connectivity challenges, this type of model may leave many operators confused. The reason's that they have to decipher complex network components and combinations.
Network solutions for oil and gas
With three vastly different operations, a hybrid model can take many forms, such as a wired or wireless connection.
Wired connections
A wired network connection comes in two forms: copper and fiber cables. A company implementing this type of network can expect consistency and reliability, so long as the cable remains intact and avoids getting cut by working machines, worker movements, or vehicles.
Fiber cables are a primary choice for companies looking for high bandwidth and safer deployment options. They have a significantly less attenuation rate than copper cables. They are heavier and more susceptible to EM/RFI interference, sparks, crosstalk, and voltage surges.
Moreover, as offshore drilling continues to increase into deeper waters and wells, fiber optics become a more attractive option for companies looking to carry high data throughput rates over longer distances. They also have the ability to withstand harsher environments, unlike copper cables.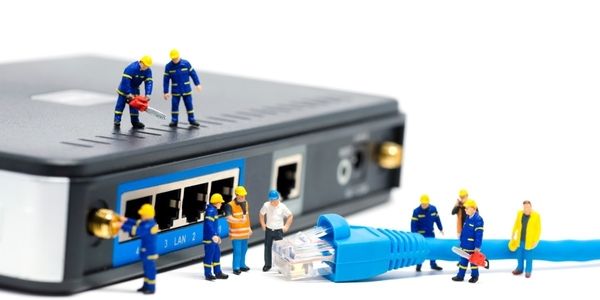 Fiber cables have the additional benefit of being used as a continuous sensor on pipelines, either above ground or below. Companies leveraging Distributed Acoustic Sensing (DAS) and Distributed Thermal Sensing (DTS) in fiber optics can monitor for pipeline leakages and various geo-hazard occurrences such as earthquakes.
While fiber optics are popular, they come at a higher cost than copper cables. Thus, companies in the midstream sector often opt out in implementing them.
Wireless connections
If a wired network isn't an option, companies can opt for a wireless connection. With its ability to offer more flexibility through 3GPP networks such as 5G and LTE, a wireless network can even be set up as an URLLC (Ultra Reliable Low Latency Communication) for very higher speeds and ultra low latency rates.
Wireless network connection comes in many forms; from satellite and WiFi to wireless broadband and LPWAN (low-power wide-area network) technologies.
Given the high costs and latency issues associated with satellites, and the low reliability and security risks with WiFi connections, implementing these solutions on shop floors is not ideal for oil & gas operators. Instead, wireless LTE or 5G networks are better suited, given their ability to offer good coverage, lower dead-spots, and a secure network. They are all key requirements for operators dealing with reliable high-speed data transmissions and high-volume conditions.
A new type of technology is also starting to see increased adoption within the oil and gas industry. With its low cost and long range capability, LoRa (long range) or LPWAN is becoming attractive option for remote locations that handle limited data volume. But, due to its limited bandwidth, the technology can only be used to connect remote assets to nearby facilities or providers. And then it forwarded to a central operations location.
Navigating the Move Towards Digitalization
It's no surprise that the oil and gas industry deals with more complex and rigorous operating requirements than other industries. It's why a hybrid network will typically be implemented for oil & gas operators in the field, whether in the upstream, midstream or downstream sectors. They can tailor their network depending on the use case.
Figure 1: Network Topology for Digital Oilfields
As figure 1 illustrates, in an upstream scenario, offshore oil rigs can be connected to a control center on land with either a wired fiber or a wireless microwave link, depending on the location of the rig. The local private network can have a hybrid connectivity of WiFi and 3GPP network such as 5G or LTE. While WiFi offers ease of access to devices, a 3GPP network offers higher data security, and more reliability. Similarly, downstream sectors can use a hybrid network connectivity configuration of WiFi, 3GPP networks and/or Bluetooth to gather data. They are used to identify optimal plant settings, automate spare parts management, implement predictive maintenance and automate their repeatable processes.
Conclusion
To be fully prepared for the disruptive changes ahead, the oil and gas industry needs to prioritize and adopt digitalization across all aspects of the supply chain. Recognizing that no single network can address all operational needs is the first step in revolutionizing established ways of working.
Source: Shobhit Jain – Automation
CTI SUPPLY – THE RIGHT INDUSTRIAL AUTOMATION SYSTEM INTEGRATOR
CTI SUPPLY built up a group of well-qualified senior engineering teams with a great number of in-house experts and automation system integrators in Vietnam. We are available to take on different projects in scale, even on short notice, and quickly ramp up by working as an extension of your internal team. Our vast experience allows us to offer custom and application specific training as an added benefit to our clients.
With over years of experience in high-tech machine programming, CTI SUPPLY's design team are able to simplify SCADA prototype process as our main package of your choice. We can also supply you with drawings and documentation for all your equipment builds. Our engineers have hands-on experience in working in European multinational corporations, high-tech automated manufacturing plants and the oil and gas industry, also enabling us to handle a broad range of projects.
Engineered Solutions | Custom Control Systems | Programming Services
During the current economic uncertainty, CTI SUPPLY is still open for business to offer our full offsite service globally.
Hotline: (+84) 91 190 1717, Email: info@ctisupply.vn