Mass finishing is a group of manufacturing processes that allow large quantities of parts to be simultaneously finished. The goal of this type of finishing is to burnish, deburr, clean, radius, de-flash, descale, remove rust, polish, brighten, surface harden, prepare parts for further finishing, or break off die cast runners. The two main types of mass finishing are tumble finishing, also known as barrel finishing, and vibratory finishing. Both involve the use of a cyclical action to create grinding contact between surfaces. Sometimes the workpieces are finished against each other; however, usually a finishing medium is used. Mass finishing can be performed dry or wet; wet processes have liquid lubricants, cleaners, or abrasives, while dry processes do not. Cycle times can be as short as 10 minutes for nonferrous workpieces or as long as 2 hours for hardened steel.
Mass finishing processes can be configured as either batch systems, in which batches of workpieces are added, run, and removed before the next batch is run, or as continuous systems, in which the workpieces enter at one end and leave at the other end in the finished state. They may also be sequenced, which involves running the workpieces through multiple different mass finishing processes; usually, the finish becomes progressively finer. Due to the random action of the processes, mass finishing is as much an art as it is a science.
Process in Mass Finishing Machines
It is widely used by component manufacturers for a variety of applications:
Deburring
Deburring – removing burrs and sharp edges from machined or pressed components. This can be carried out without critical changes in important dimensions, especially on closely tolerance diameters and faces. The process follows the contours of the component so that the edges are the first to be treated and burrs removed before critical dimensions are affected.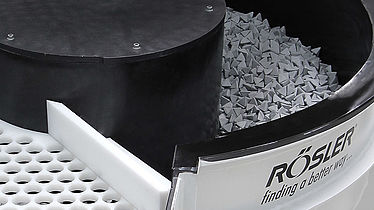 Radiusing
Radiusing – an extension of the deburring process until a definite radius is produced on a component. This work can't be properly done or controlled when hand methods are used. A component 'radiused' by hand usually, on close inspection, typically displays not a true radius but a number of flats and when volumes of parts are involved it is also evident that by hand methods the degree of radius will vary from one component to another. Additionally using mass finishing the profile is true on all edges and the amount of radius can be controlled by process time and condition of the edge to be treated. As an added bonus the process is not selective and will treat all the component edges in the same way unless masking techniques are used.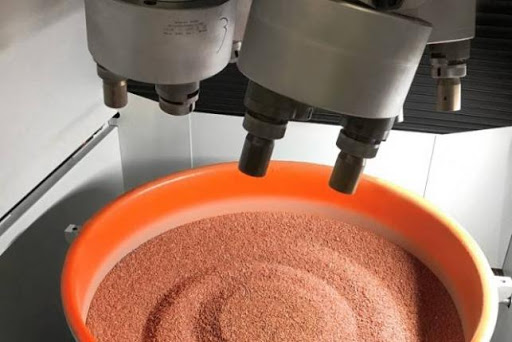 Cutting Down / Blending
Cutting Down / Blending – refers to the treatment of surfaces rather than edges. The value of this operation often lies in the surface improvement of castings and forgings. It is used on a variety of components such as; automotive parts, turbine blades, cutlery, sport equipment, surgical instruments and many others.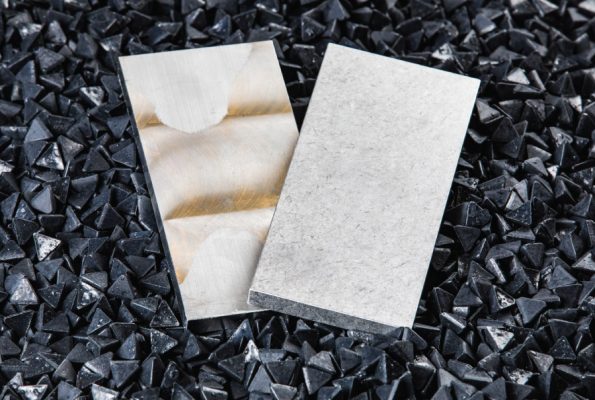 Colouring or Burnishing
Colouring or Burnishing – this process can be used on most metals to give a bright, lustrous finish and to bring out the natural colour of the metal. The finish achieved is bright and reflective but not necessarily smooth since it is not a cutting process and it follows the imperfections of the surface. High lustre finishes can be achieved on brass and aluminium components in particular and parts treated in this way tend to retain their colour longer than those 'polishing' by more traditional methods. Media used is usually of steel or porcelain in conjunction with special polishing compounds or pastes. More recently highly polished components have been produced using maize or wood media impregnated with a special polishing cream. This has proved very effective on stainless steel components or for the fine polishing of soft aluminium components. The ultimate in this type of finish is achieved by using the many OEMs.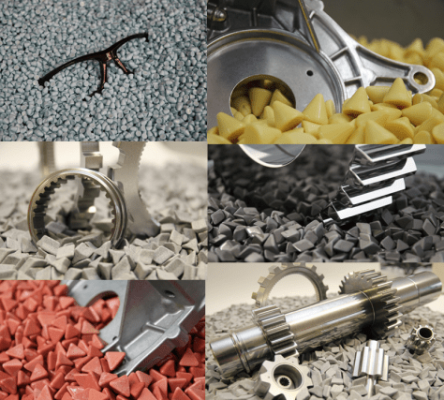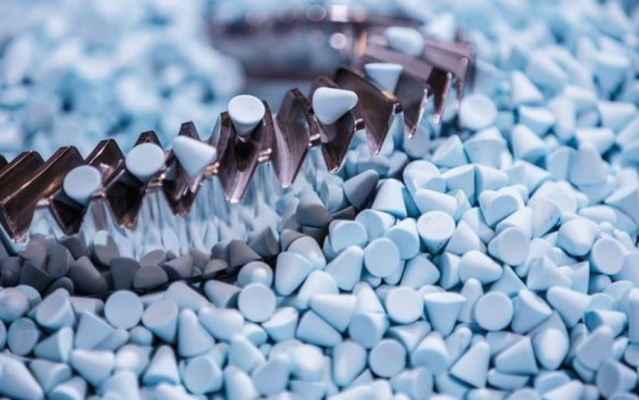 Deflashing
Deflashing – involves removing flash and die lines from aluminium or zinc alloy die castings. It is a process widely used in the die-castings industry and as with de-burring, the thickness and position of the flash to be removed must be carefully controlled.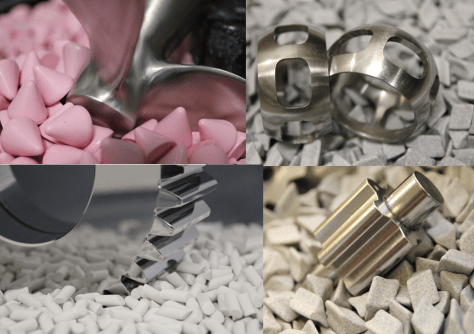 Cleaning
Cleaning – refers to the cleaning of components as a finishing operation rather than a pre-treatment process. There are many applications for this type of operation which is part chemical / part mechanical as imparted by the vibrating or centrifugally agitated media. Applications include; cleaning of automotive components prior to re-work / re-conditioning where it is often necessary to remove baked-in carbon and oil deposits, general degreasing, light surface or edge treatment combined with cleaning and surface conditioning prior to painting. Often this type of process can replace more expensive alkaline or solvent degreasing systems and phosphating plant.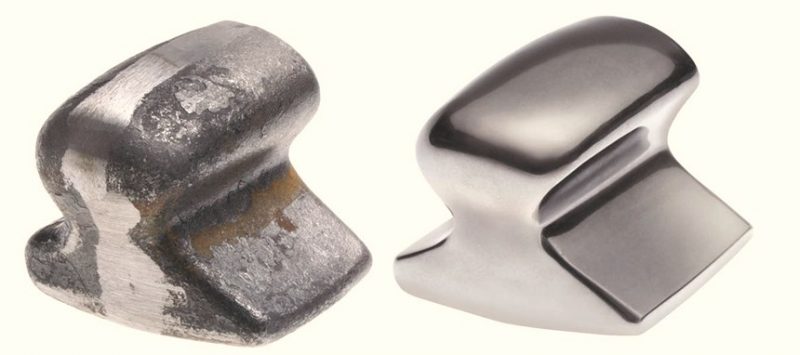 Applications using Mass Finishing Machines
Mass finishing machines come in different shapes, sizes and styles; vibratory bowls and troughs, high energy centrifugal disk machines to drag finishing. Machines can often be chosen in batch and continuous flow versions and as such their application range is as wide as it is varied. below are just some of the possible applications:
The de-burring and surface finishing of airframe components, usually of aluminium alloys. Processes usually involve the use of long, straight trough machines – sometimes fitted with divider plates. Machines can be supplied for wing spars and stingers which can exceed 10 metres in length.
The de-burring of jet engine housings.
The de-burring and finishing of turbine discs in bowls and/or trough vibrators by fixturing or in separate compartments, or by plunge grinding for speed.
The leading and trailing edge radiusing of compressor and turbine blades and the improvement of surface finish down to single digit readings in microns Ra.
Engine components, e.g. cylinder heads, manifolds, pistons and connecting rods, valve, spark plug bodies.
Camshafts and crankshafts using fixtures or special machines.
Gearbox components, i.e. de-burring of brass blocker rings and finishing gears and shafts.
Suspension components, i.e. springs and swivel pin holder.
Seat belts buckles, pressings and components for window opening mechanisms.
Aluminium wheels for cut down prior to further treatment and/or through to pressure burnishing.
To cut down and/or polish knife blades.
To cut down and radius spoon and fork blanks, usually prior to forming.
To re-burnish and clean cutlery in use at hotels, catering companies and on airlines.
To de-scale after annealing.
To burnish blanks.
To lubricate blanks for ease of flow in presses.
General Domestic Architectural Hardware
Deburring lock components.
Pre-paint or pre-plate finishing of steel, mazak or brass door and window fittings.
Die-castings (Aluminium or Zinc)
De-flash and de-sprewing.
Surface blending and polishing.
Finishing cast metal toys.
The cleaning and polishing of hot brass stampings prior to machining.
Cut down of forgings and removal of scale.
Deburring, surface finishing, edge radiusing and heat treatment scale removal.
Cleaning and polishing of screws, rivets, nails.
De-nibbing of nails.
The de-burring and cleaning of brass plug components and contacts.
Cut down and finishing of rollers and balls.
De-burring of bearing cages.
Finishing of spherical ball and bearing components.
Finishing of white metal bearings.
Surgical Implants and Instruments
Fine finishing of surgical implants.
Fine finishing of surgical instruments.
Burnishing of scalpel blades.
Burnishing brass and copper pipe fittings.
Burnishing of stainless steel fittings.
Cut down and deburring or surface blending of cast or fully machined fittings.
It is not generally acceptable to put heat formed plastic in abrasive processes because the surface is easily scratched and damaged by the abrasive and cannot be restored. Certain plastic components are able to be processed though such as:
Heat formed plastics (thermosets – electric plugs, housing, etc.) can be de-flashed using steel of porcelain media, or wood block.
De-flashing and polishing buttons
Buckles – Media used for these processes would include wood blocks impregnated with grinding or polishing creams for bright finished. Plastic media can be used for cutting down.
Wood components, especially hard wood, can be smoothed and blended.
A number of applications have been developed for this industry.
The rubber industry often needs to de-flash small parts such as 'O' rings and oils seals. This is often carried out in cryogenic (freeze) processes although successful deflashing can be achieved using centrifugal force machines with highly abrasive media meaning freezing is not required.
Removing the surface dust from biscuit ware prior to glazing. This is done in a one-lap operation in a bowl type machine using small ceramic or wood blocks and/or media. A dust extraction system is typically required.
The burnishing of gold ornamentation on fine chinaware – replacing traditional hand-burnishing methods. The process uses steel media and a neutral polishing compound.
Additive Manufacturing / Sintering Industry
With the advent of new additive and sintering technology and developments in 3D printing plastics and metals can be deburred, smoothed and/or polished as required using a range of machine types with ceramic / plastic media.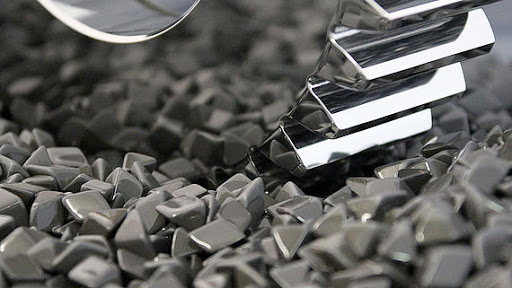 To sum up
Barrel, vibratory and high energy disk centrifugal force machines are all precisely controlled methods of processing small and/or large batches of engineered components in order to remove sharp edges, eliminate tool marks, remove flash, de-scale, radius edges, polish and/or burnish the surface.
Compared to traditional hand finishing methods the equipment brings a host of benefits including; reliability, consistency of finish produced, efficiency and effectiveness as well as reducing finishing cost per part. Added to that machines can be linked to dryers, washers, separators and transfer systems right the way through to being integrated into fully automatic 'lights out' production cells.