What is a Parts Cleaning Machine?
A parts cleaning machine/parts washer is a mechanical device designed to remove dust, grit, grime, oil, miscellaneous debris, dirt, paint, chemical and other contaminating substances on product's surface in preparation for their use in assembly operations, packaging, or coating manufacturing industry. The basic function of a parts washer is to clean and prepare parts.
The types of parts washers vary depending on their industrial use and include high pressure washers, washer cabinets, rotary basket washers, deburring, and several other varieties. There are different methods of cleaning such as using chemical steam, dousing, ultrasonic bath and spraying. Ultrasonic cleaning is the most commonly used method since it is very effective and with the low operational cost.
Ultrasonic Parts Cleaning Machine
Complex parts can have contaminants and oxidation that cannot be cleaned by normal high-pressure sprays or immersion. Ultrasonic systems use ultrasound, at 20 to 400 kHz, and a cleaning solution. The cleaning process uses cavitation bubbles produced by high frequency sound to agitate the cleaning liquid. The force of the agitation goes deep into the holes, cracks, and crevices of the part to remove contaminants. Ultrasonic parts washers can be bench top or high-volume large capacity.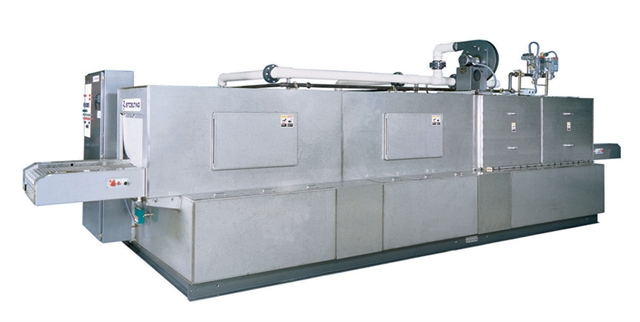 The general maintenance concept for a Multichambered Ultrasonic Cleaning machine
This type of system consists of several chambers and transportation arm mechanism to transport products from one chamber to the next. The cleaning steps referred as below.
Pre-washing – Initial Cleaning – Fine Cleaning – Rinsing – Drying
Ultrasonic Parts Cleaning Machine are a significant necessary investment that has to be maintained and require a regular maintenance cycle. Heavily used parts washers may require being checked weekly to ensure proper performance and operation. Listed below are a few steps to be taken when examining the condition of a parts cleaning machine.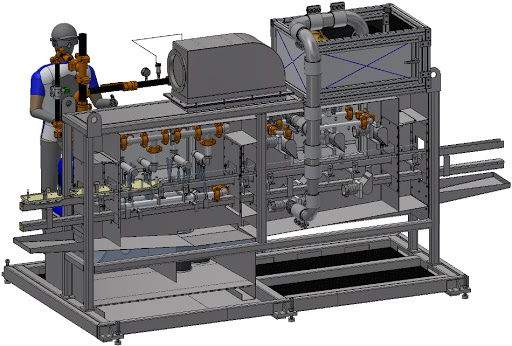 The maintenance procedure
The first step in proper maintenance is to become familiar with its workings components. Advanced knowledge will assist in determining possible problem areas and ones that need close examination. Tanks, heaters, pumps, nozzles, filters, and turntables can malfunction or not perform up to specifications.
After the machine turned off, the water and chemicals are drained by using cleaning media.
The technicians clean up each of chambers thoroughly, checking signs of damages which caused the water and chemical inner tanks to ensure that there is no leakage.
The team inspects the piping system and valves for water and chemical in both the supply and draining lines. Rust and deterioration must be inspected carefully.
The Ultrasonic Plates / Ultrasonic Elements are the key components of the machine since they are functional to the main cleaning process. If there is a sign of light cavitation warned, the part must be polished to slow down the damage. In case of the large cavitation, these parts must be replaced. Another point to be marked is the Ultrasonic Plates limited with a certain lifetime, the technical team should get the advice from the manufacturer to take on-time replacement for product's quality assurance.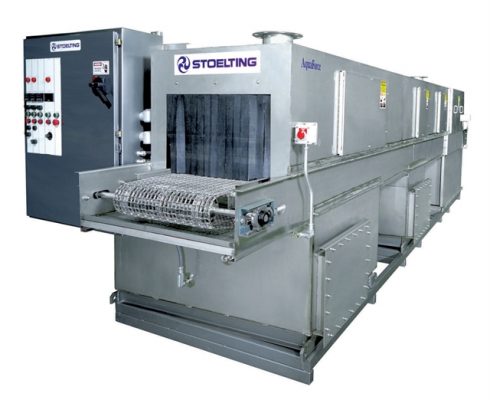 The technicians check and replace the filters according to the manufacturer guidance. Clogged or damaged filter could cause the overloaded machine or filtering functional disorder.
The next step of process is to maintain the transportation mechanism. The industrial cleaners usually have products washed in heavily large batch or baskets. Thus, the technician must check for wear-outs and position of the system to be in the specification. He is inquired to perform tasks of lubrication, repair and realignment as needed.
Testing Performance for safety system is unalterable. A cleaning dip-tray system contains spilled/leaked liquid, and safety trigger must be activated when the liquid is detected.
Last but not least, process control equipment such as sensors for water level, control unit and temperature are important for the team to put them into the maintenance schedule.
Conclusion
Parts cleaning machine is a significant necessary investment that has to be maintained and require a regular maintenance cycle. It is important to monitor the performance of your industrial parts cleaning machine in between services to pick up warning signs before they become major problems.

Here are some potential problems to look for:
Hot spray wash machine basket stops turning.
Water does not heat up
Water stops flowing
Fluid based parts cleaning machine stops draining
If you experience any of these symptoms with your industrial parts cleaning machine, contact us for support and assistance.