WTP/WWTP CONTROL SYSTEM INTEGRATOR
CTI SUPPLY exceptional control system integrators designs, engineers and builds complete wastewater treatment solutions and wastewater systems for industries that range from small industrial plants, OEM manufacturers to large municipal operations from the ground up, or to design it as part of a larger system alongside other processes or subsystems.
Being selected to offer upkeep services, CTI SUPPLY has the expertise and experience to deliver fully integrated treatment solutions of in-depth analysis and quality engineering. specific to your project needs for aging systems upgrade.
AUTOMATION CONTROL SYSTEM
Potable water  systems
Potable (drinking) water
Process water systems
Water from process streams
Wastewater systems
Wastewater, sewage and sludge.
EXPERTISE
As a professional engineering and electrical control contractor, CTI SUPPLY offers industries simplified water and wastewater automation technology.
CTI SUPPLY develops fully customized SCADA systems that provide control systems with the most state-of-the-art monitoring capabilities available from your preferred devices.
A variety of systems solutions to industries and municipalities
Engineering capability and a broad knowledge of control systems for water & wastewater
PLC and DCS-based central control integrating SCADA, telemetry and data logging
Project management experience with human-machine interfaces, motor control, and drives
Control and instrumentation systems for a turnkey solution.
Whether simply looking to upgrade the controls to your existing water, wastewater or mechanical system infrastructure or are utilizing our own design and engineering services for a newly constructed packaged system, we can provide streamlined control system integration with intuitive monitoring that results in a productive and sustained water movement and management experience.
We take full responsibility for the proper operation including electrical distribution equipment, pumps and motors, variable speed drives, controls, SCADA systems, standby power units and related instrumentation such as flow meters, pressure and level transducers, etc.
FIELDS OF SUPPLY
CTI SUPPLY designs complete system integration solutions, controls and automation for the following types of projects.
Our team offers a wide range of automation and control system solutions for water treatment and distribution and wastewater collection and treatment, including control system installation, procurement, safety shutdown systems, process scheduling and tracking, sequential control and many other applications.
.
Industrial water plants
Municipal water treatment
Municipal wastewater treatment
Sewage collection
Water distribution
Booster pump stations | tanks | reservoirs | wells | pressure reducing stations
Lift stations
Systems that monitor and control pumps, aerators, clarifiers, tank levels, filters, chemical feed systems, dewatering systems, and other subsystems—lift stations and distribution systems—through a network of PLCs and operator terminals.
Solutions that provide complete automated systems from dosage control to integrated level, pump and mixer control.
We accommodate a constantly fluctuating inflow of wastewater treatment system from the plant due to washdowns at different times.
Our team also commission the new system to get waste diverted to the new facility without stopping production in the plant.
CTI SUPPLY Integrators program the PLC to operate the system with the given I/O's addresses. The PLC handles calculation, performs logic control, and analysis functions for the system, and the result is stored or shown in values or graphic trend as required in the SCADA's interface. It allows the operator to control the processes, input values, and monitors directly with the system via a screen or a control panel which similar to the Process/Piping & Instrumentation Diagram (P&ID).
The P&ID's are the key document needed for the development of the SCADA system for any WTP that CTI Supply has performed. SCADA's screen is developed to include process instruments' graphic, numerical information, operational status, control function, and measurement. Many instruments allow manual operation on the screen, e.g. valve opening/closing, pump on/off.
Level and set point setting are used to control and monitor the process in the system. Specification or requirement for these values should be included in order for the programmer to develop the SCADA with necessary indicators to monitor process parameters. Some parameters are shown as values, while some may need trendy chart in order to show the condition of the process.
The next important function is the alarm and notification system. Alarms and warnings would inform the operators that certain monitored parameters have been reached, and could impact quality, process, or safety requirement. The operators would then take the necessary actions and changes to return the processes to within the control limit.
Advanced system could also take advantage from a Data Historian to predict certain outcomes and give advance warnings to the operators of process abnormalities.
Intake System
Pump on-off & speed control with VFD/VSD (pressure control, flow control, level control)
Pump protection: overload, low/high pressure, low flow, low level
Pump duty-standby control based on running hour
Pump lead/lag/standby sequence
Water flowrate & volume measurement & recording
Remote communication with WTP SCADA system
Chemical Dosing
Chlorine dosing pump speed/stroke control with VSD
Dosing pump duty-standby control based on running hour
Dosing speed/stroke recording (chemical dosing flowrate estimation)
Flowrate, turbidity, and pH measurement & recording
Filter Control
Sludge level detection/measurement in clarifier or sedimentation tank with Automatic Sludge Finder
Automatic drain valve control
Automatic filter backwash sequence control (based on water level)
Filter performance data recording & analysis (cycle analysis)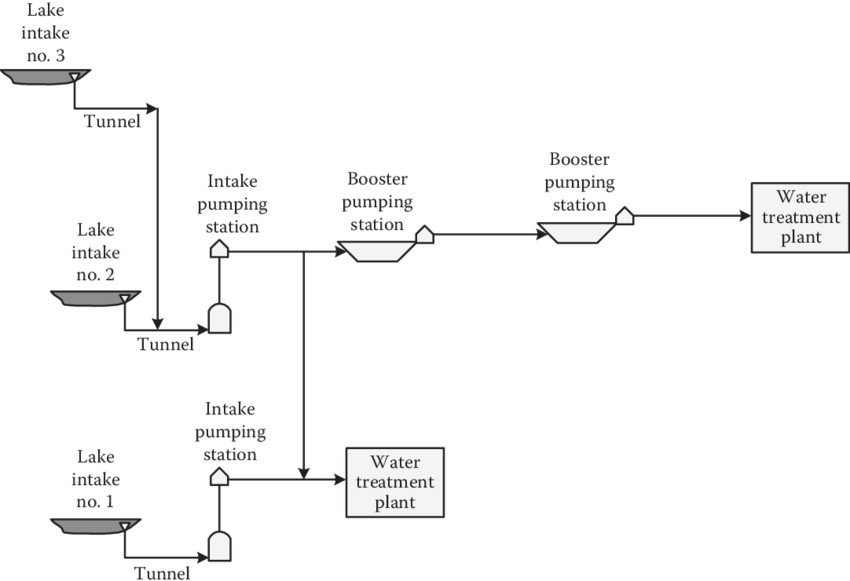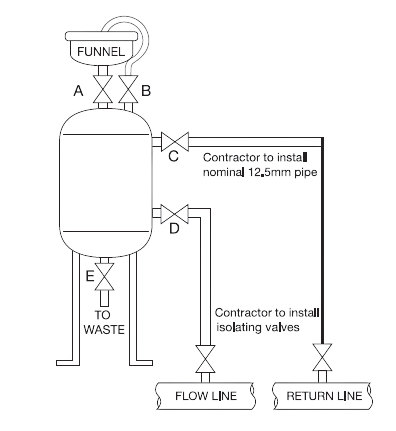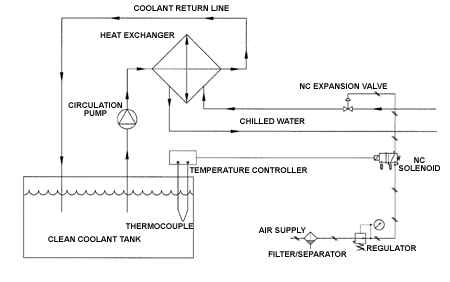 Distribution Control
Pump on-off & speed control with VSD (pressure control, flow control, level control)
Pump protection: overload, low/high pressure, low flow, low level
Pump duty-standby control based on running hour
Pump lead/lag/standby sequence
Water flowrate & volume measurement & recording
Water quality measurement & recording.
Reservoir level measurement & recording
Pump performance & efficiency calculation & data recording
Hardware
Pump/motor: program on/off control for pump with PLC, and interactive control on HMI, also display operational status of Pumps and Motors by showing color highlight or text.
Inverter/soft starter: program speed control for pump with Soft Starter or Variable Speed Drive (VSD). If required, speed setting could be adjustable parameter on HMI.
Control Valve: program operation of Control Valve to vary flow rate of fluid.
Flowmeter: program to read signal/data from flowmeter and display on HMI or store in database.
Level Transmitter: program PLC to read signal from Level Transmitter and display on HMI.
Level Switch: program PLC to control read signal from Level Switch and response as required.
Pressure Switch: program PLC to control read signal from Pressure Switch and response as required.
Control
Flow Control: program PLC to adjust flowrate of fluid in a piping system and set desired value, Low Control Limit, High Control Limit
Level Control: program PLC to adjust level of fluid in the tank system and set desired value, Low Control Limit, High Control Limit
PID Control: configure PID logic parameters of built in function of the PLC to correctly control processes of the system
Controller: duty/standby
Lead/Lag/Standby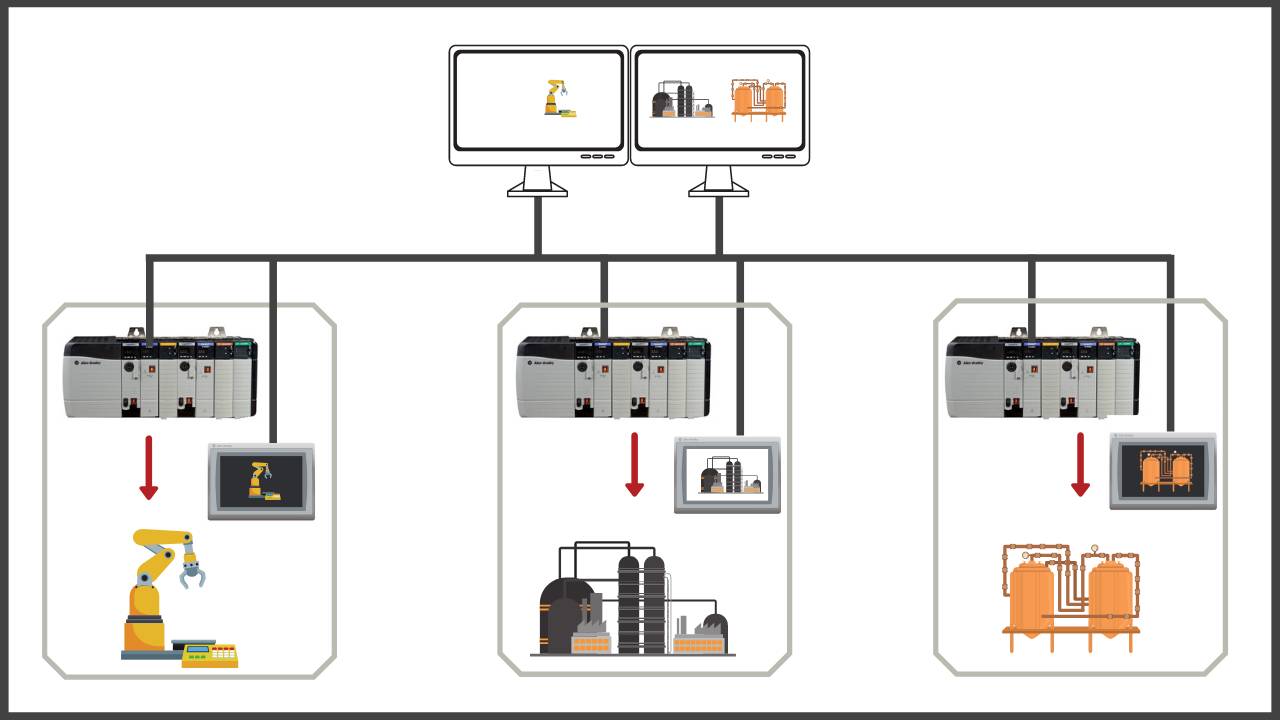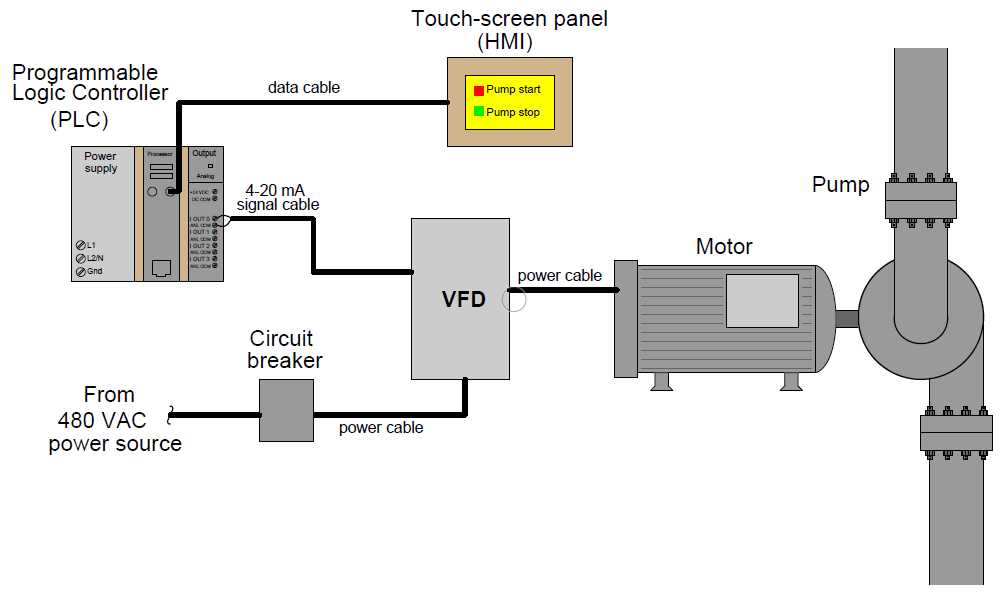 HMI Visual Programming
HMI Graphic Design: create interface layout on HMI with reference to the P&ID (Process/Piping & Instrument Diagram)
Mapping HMI to PLC: assign addresses of I/O's to HMI, PLC corresponding to the instruments
Alarm Setting: create alarm responses for each parameter when control limit is reached, or when PLC/HMI/SCADA encounter an abnormality
User Management: create users, passwords and management right for each type, as well as login window on HMI
Historical and Real-time Trend: create graph for data trend of signal on the HMI as specified